1 Thessalonians 4:13Brothers, we do not want you to be ignorant about those who fall asleep, or to grieve like the rest of men, who have no hope. 14We believe that Jesus died and rose again and so we believe that God will bring with Jesus those who have fallen asleep in him. 15According to the Lord's own word, we tell you that we who are still alive, who are left till the coming of the Lord, will certainly not precede those who have fallen asleep. 16For the Lord himself will come down from heaven, with a loud command, with the voice of the archangel and with the trumpet call of God, and the dead in Christ will rise first. 17After that, we who are still alive and are left will be caught up together with them in the clouds to meet the Lord in the air. And so we will be with the Lord forever. 18Therefore encourage each other with these words.
It is no secret that many of the early Christians thought that Christ would return in his full glory before their earthly death. Things became more and more troubling when some of these Christians start dropping like flies in the face of persecution. What is going to happen to them? Will they be disadvantaged when Christ come again? What about me? Maybe if I try a little harder?
This latest comic from xkcd
is a little sad for me. I think this is what many of the faithful Thessalonian Christians felt.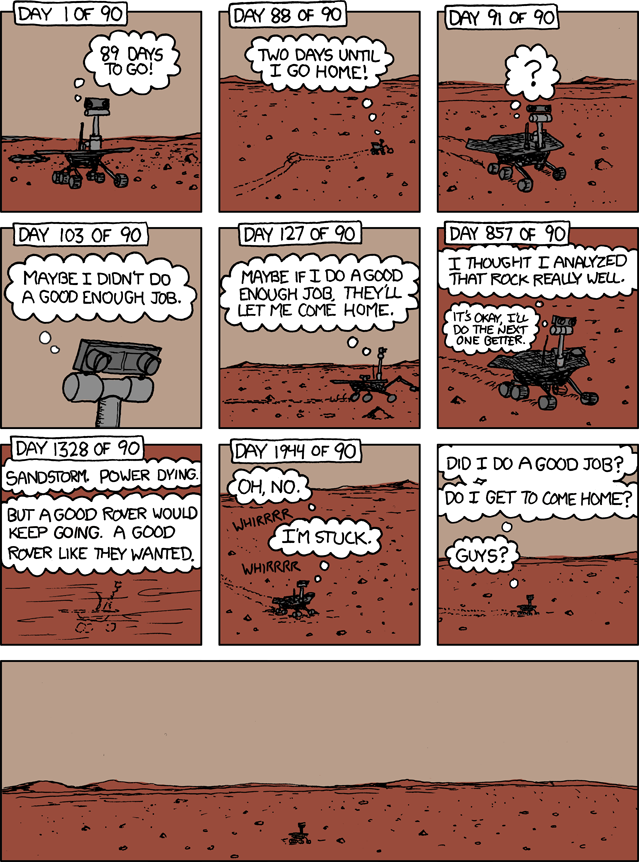 More information on the Spirit's work on Planet Mars
.